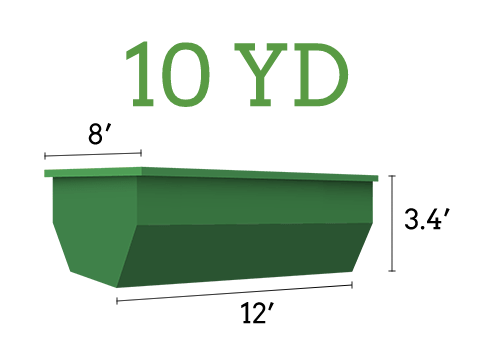 10 Yard Dumpster
$350.00
Includes- 7 Day Rental & 1 ton of material

$20 Per Additional Day after 7 days
$140 Per Additional Ton

Dimensions:

12' long x 8' Wide x 3.4' Tall

10 cubic yard Dumpster
Looking for a reliable and affordable dumpster rental service in the Capital Region of New York? Look no further than Brennan Dumpsters! Our 10-yard dumpster is perfect for a range of projects, including landscaping, garage or attic cleanouts, home remodeling, and even cleanouts before moving. With low walls, it's easy to load from the top, making it a popular choice for those smaller range projects. Despite its smaller size, it's still capable of handling a variety of materials.
For larger jobs, we offer dumpsters in various sizes to help you tackle any project. Our 12-yard dumpster is recommended for full room renovations or house carpet replacements, while our 15-yard dumpster is the largest rental we offer and can handle a considerable amount of material. Our team is dedicated to ensuring that your project runs smoothly and efficiently.
Renting a dumpster from Brennan Dumpsters offers a range of benefits. Firstly, it's convenient. With a dumpster rental, you can easily dispose of all your waste in one place, without having to make multiple trips to the dump. Secondly, it's affordable. Renting a dumpster is often more cost-effective than other waste disposal methods, such as hiring a junk removal service. Thirdly, it's flexible. We offer short-term and long-term rentals to suit your needs.
In addition, Brennan Dumpsters services many towns and cities in the Capital Region of New York, including Niskayuna, Rotterdam, Scotia, Latham, Clifton Park, and more, making it easy to find a dumpster rental near you. Renting a dumpster can also help you dispose of waste in an environmentally friendly way, by ensuring that it is properly sorted and disposed of. Lastly, renting a dumpster saves time and energy, allowing you to focus on other important tasks.
Overall, renting a 10-yard dumpster from Brennan Dumpsters is a convenient, affordable, and environmentally friendly way to dispose of waste. Our 10-yard dumpster is the perfect, compact size to fit in small spaces, but still hold plenty of waste! We recommend this dumpster for small home projects like spring cleaning, basement or garage cleanouts, or even small home renovations. Don't worry if your home has limited space, we'll find the perfect spot for this small, but mighty dumpster.