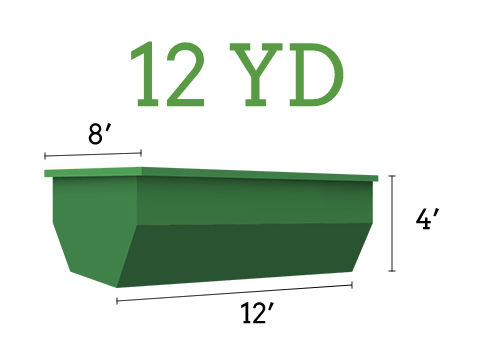 12 Yard Dumpster
$400
Includes- 7 Day Rental & 1.5 tons of material
$20 Per Additional Day after 7 days
$140 Per Additional Ton


Dimensions:

- 12' long

- 8' wide

- 4' tall

12 cubic yard Dumpster


The 12 yard dumpster's volume and size makes it great for:
Full garage or attic clean outs

House cleaning before a move

Landscape project cleanup

Demolition clean up

Looking for a reliable dumpster rental service in Niskayuna, Rotterdam, Scotia, Latham, Clifton Park or the surrounding areas? Look no further! Our company offers top-notch dumpster rental services to help you with all your cleanup needs.
Our 12-yard dumpster is perfect for larger sized jobs, providing all the space you need to haul junk and material. Whether you're renovating your home or cleaning out your garage, this dumpster will help you get the job done in one big haul.
But if you think your project is more of a medium sized job that doesn't require the extra space of our 12-yard dumpster, we also offer a 15-yard dumpster rental. It's smaller, but still provides plenty of space for moving junk.
And if you're taking on a small job, our 10-yard dumpster is the right fit. It has enough space for most common cleanup jobs, and its low walls make it easy to load.
No matter what size job you have, our dumpster rental services can help make cleanup a breeze.