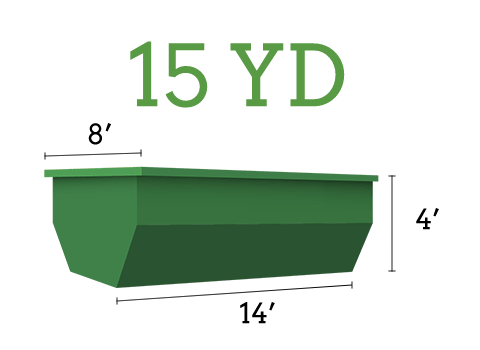 15 Yard Dumpster
$399 7 Day Rental 2 tons of material
$10 Per Additional Day for 21 days
$20 Per Additional Day after 21 days
$144 Per Additional Ton


Dimensions:

- 14' long

- 8' wide

- 4' tall

- 15 cubic yards


Capacity- 4 Truck loads


The 15 yard dumpster is great for:
Junk removal

Fence removal

Home renovation projects

Estate cleanouts

Carpet removal

Dumpsters For Small Projects
We also offer dumpsters in smaller sizes as not every job will call for a dumpster of this magnitude. If you are doing a small cleanup, we implore you to see our 10-yard dumpster. We even offer a 12-yard dumpster for medium range jobs of all types.